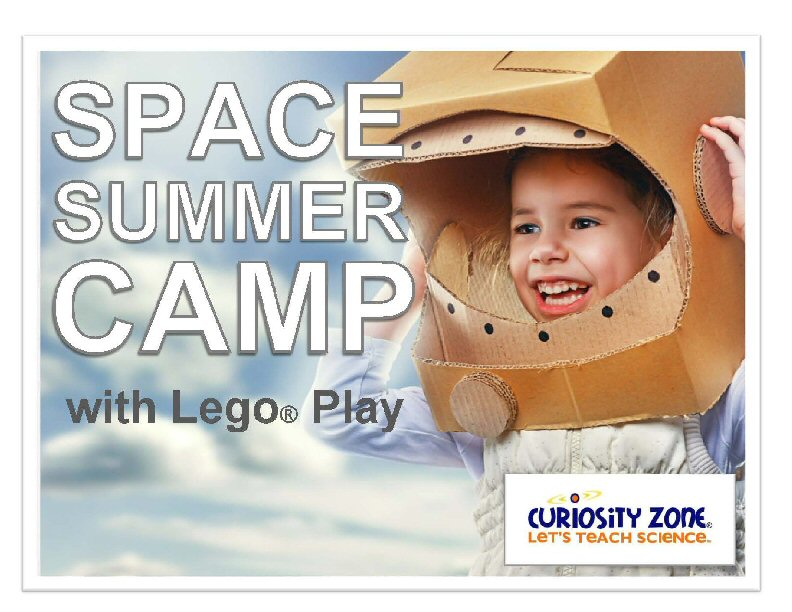 Space Camp with Lego® Play - Full Week (15 hours)
Regular price $125.00 Sale
Also sold in single day units.
What's it like to be an astronaut?  This awesome summer camp adventure combines hands-on STEM exploration with Lego® play to explore rockets, space stations, robots, space weather, planetary geology, stars, asteroids, meteors, rockets and so much more, while also developing skills in creative thinking, design, teamwork, astronomy, engineering, geology, meteorology, chemistry, physics and math.
Each day of camp features:
Introductory videos and background information
A "wow" demonstration
Several child-directed hands-on STEM activities
Lego® play
Theme-related camp games
Look inside a day of Space Camp.
By purchasing this curriculum, you are consenting to the terms of our Licensing Agreement.
Camp Outline:
Day 1:  Rockets
Explore the science and engineering of rockets and rocket fuel
Explore gravity
Build and launch three types of rockets
Build Lego® rockets
Play space camp games
Day 2:  Prepare for the Space Mission
Explore the science, engineering and technology involved in keeping astronauts safe in space
Explore solar energy and sunscreen
Make a sunlight detector
Explore the concept of weightlessness
Make an astronaut snack and drink
Make a mission map for space travel
Learn about the International Space Station
Learn about animals traveling in space
Build a Lego® space station
Play space camp games
Day 3:  Robotics & Coding
Explore the science, engineering and technology of robots, and how they are used in space
Learn to program a robot
Write words in binary code
Use binary code to make a necklace
Make a robotic finger model
Build Lego® robots
Play space camp games
Day 4:  Night Sky
Learn about the Moon
Explore and make impact craters
Explore comets, asteroids and meteors
Make a comet model
Explore stars and constellations
Make constellation art
Explore satellites
Build a Lego® satellite
Play space camp games
Day 5:  Building the Space Colony
Explore planetary geology and meteorology
Erupt a space volcano
Make wind spinners
Explore the possibility of extraterrestrial life
Make alien slime
Build Lego® Buildings for the Space Colony
Play space camp games
Quick Facts:
15 hours of activities.  Also sold in single day units (3 hours of activities).
Ideal for young scientists, ages 4-10.
Easy to find materials; no expensive kits.
Turn-key science curriculum gets you up and running quickly:

Detailed instructions for teaching interconnected kid-directed STEM activities
May be customized with your own ideas to create the perfect fit
Clearly defined learning objectives
Scientific background & terminology for each activity
Advice on setup, schedule, timing & transitions
Links to recommended daily science videos
Detailed supply lists
Preparation instructions, checklists & timeline
Complete set of printables
Coordinated STEM camp games
Online support

Curriculum developed over 10+ years by teachers and scientists at Curiosity Zone, an award-winning kid-sized science lab.
License includes up to 5 locations/100 students (whichever is less students) for one year.
Offer as a half-day camp, combine with field trips and other camp activities to create a full-day camp experience, or break apart and stretch over several days.
Immediate download as a .pdf upon purchase.
Download our free guide:  How to Start a STEM Summer Camp
By purchasing this curriculum, you are consenting to the terms of our Licensing Agreement.