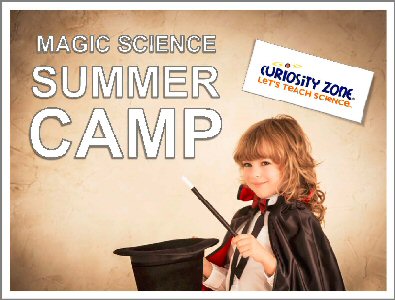 Magic Science Camp - Full Week (15 hours)
Regular price $125.00 Sale
Also sold in single day units.
In Magic Science Camp, kids learn the secret tricks of real magicians: they make coins disappear; pull a rabbit out of a hat; read minds; make potions change color; make writing disappear and reverse direction; create incredible optical illusions; perform amazing card, rope and cup tricks; and so much more! Of course, there is science to be discovered in every trick, and along the way kids will explore chemistry, optics, physics, engineering, life sciences and more.  Camp ends with a big magic show!
This camp is especially appealing to girls, who are often hard to draw into science programs.  Look inside an example of Magic Science Camp.
By purchasing this curriculum, you are consenting to the terms of our Licensing Agreement.
Camp Outline:
Day 1:  Camouflage & Hiding Places
Explore animal camouflage
Learn how magicians use camouflage
Pull a rabbit out of a hat
Make coins disappear
Make water disappear
Experiment with disappearing writing
Learn to read minds
& more!
Day 2:  Physics & Forces
Explore center of balance and gravity
Experiment with magical balancing forks
Experiment with a magic butterfly
Explore air pressure
Make a "spitting" bottle
Explore magnetism
Make a cup that "eats" metal
Make magnets and balloons levitate
& more!
Day 3:  Chemistry
Explore chemical reactions
Extinguish candles with an invisible force
Make color-changing potions
Explore fluorescence and phosphorescence
Make a shadow catcher.
Explore states of matter
Make glowing slime
& more!
Day 4:  Optical Illusions
Explore magically growing arcs
Bring money to life
Make flat images move
Make a bird cage illusion
Make illusions with water
Explore light filters
Make a secret message decoder
Learn card tricks
& more!
Day 5:  Invisible Forces & Showtime!
Explore air pressure and gravity
Make a magic rope
Use magic pencils to stop water flow
Put on a magic show!
Quick Facts:
15 hours of activities.  Also sold in single day units (3 hours of activities).
Ideal for young scientists, ages 4-10.
Easy to find materials; no expensive kits.
Immediate download as a .pdf upon purchase.
Turn-key science curriculum gets you up and running quickly:

Detailed instructions for teaching interconnected kid-directed STEM activities
May be customized with your own ideas to create the perfect fit
Clearly defined learning objectives
Scientific background & terminology for each activity
Advice on setup, schedule, timing & transitions
Links to recommended daily science videos
Detailed supply lists
Preparation instructions, checklists & timeline
Complete set of printables
Coordinated STEM camp games
Online support

Curriculum developed over 10+ years by teachers and scientists at

 

Curiosity Zone, an award-winning kid-sized science lab.
License includes up to 5 locations/100 students (whichever is less) for one year.
Offer as a half-day camp, combine with field trips and other camp activities to create a full-day camp experience, or break apart and stretch over several days.
Download our free guide:  How to Start a STEM Summer Camp
By purchasing this curriculum, you are consenting to the terms of our Licensing Agreement.