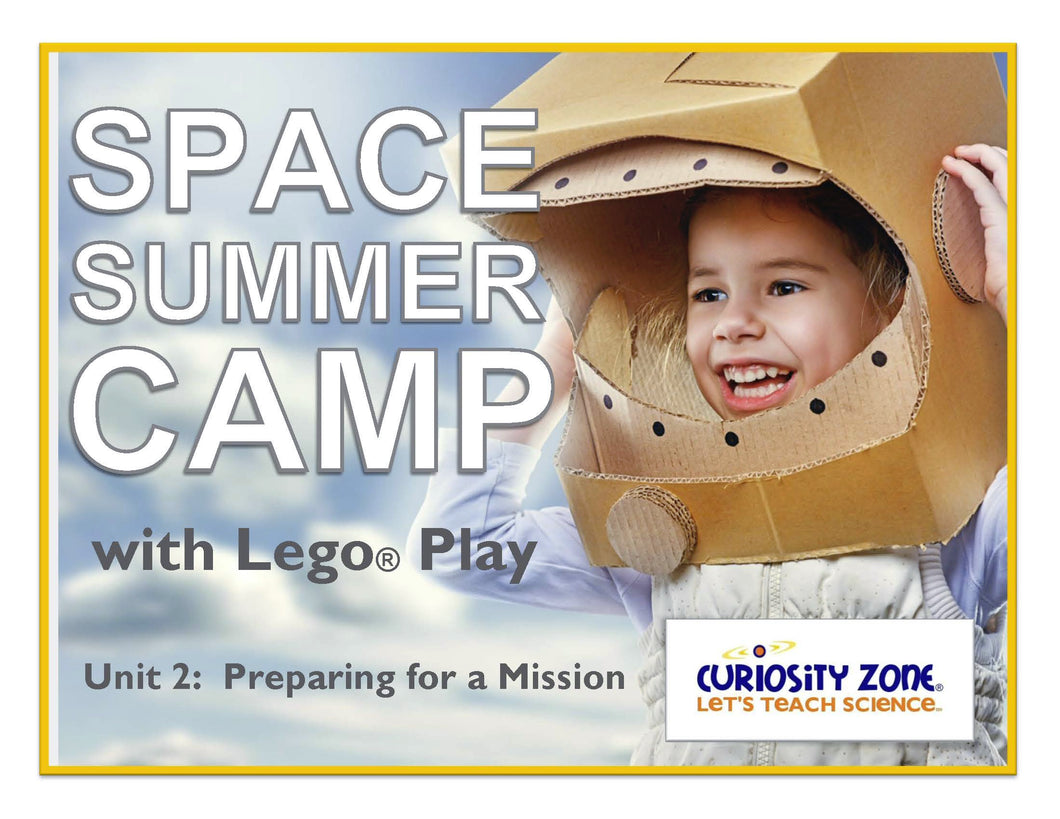 Space Camp with Lego® Play - Prepare for a Mission (3 hours)
Regular price $25.00 Sale
Also sold in a full week camp set.
What's it like to be an astronaut?  This awesome summer camp adventure combines hands-on STEM exploration with Lego® play.  Kids enter the Astronaut Training Academy and learn how to prepare for a space mission while developing skills in creative thinking, design, teamwork, engineering, chemistry, life science, physics and math.  Kids will:
Explore the science, engineering and technology involved in keeping astronauts safe in space
Explore solar energy and sunscreen
Make a sunlight detector
Explore the concept of weightlessness
Make an astronaut snack and drink
Make a mission map for space travel
Learn about the International Space Station
Learn about animals traveling in space
Build a Lego® space station
Play space camp games
The camp features:
Introductory videos and background information
A "wow" demonstration
Several child-directed hands-on STEM activities
Lego® play
Theme-related camp games
Look inside a day of Space Camp.
By purchasing this curriculum, you are consenting to the terms of our Licensing Agreement.
Quick Facts:
3 hours of activities. 

Also sold in a 

full week camp

 set.

Ideal for young scientists, ages 4-10.
Easy to find materials; no expensive kits.
Turn-key science curriculum gets you up and running quickly:

Detailed instructions for teaching interconnected kid-directed STEM activities
May be customized with your own ideas to create the perfect fit
Clearly defined learning objectives
Scientific background & terminology for each activity
Advice on setup, schedule, timing & transitions
Links to recommended daily science videos
Detailed supply lists
Preparation instructions, checklists & timeline
Complete set of printables
Coordinated STEM camp games
Online support

Curriculum developed over 15+ years by teachers and scientists at Curiosity Zone, an award-winning kid-sized science lab.
License includes up to 5 locations/100 students (whichever is less students) for one year.
Offer as a half-day camp, combine with field trips and other camp activities to create a full-day camp experience, or break apart and stretch over several days.
Immediate download as a .pdf upon purchase.
Download our free guide:  How to Start a STEM Summer Camp
By purchasing this curriculum, you are consenting to the terms of our Licensing Agreement.