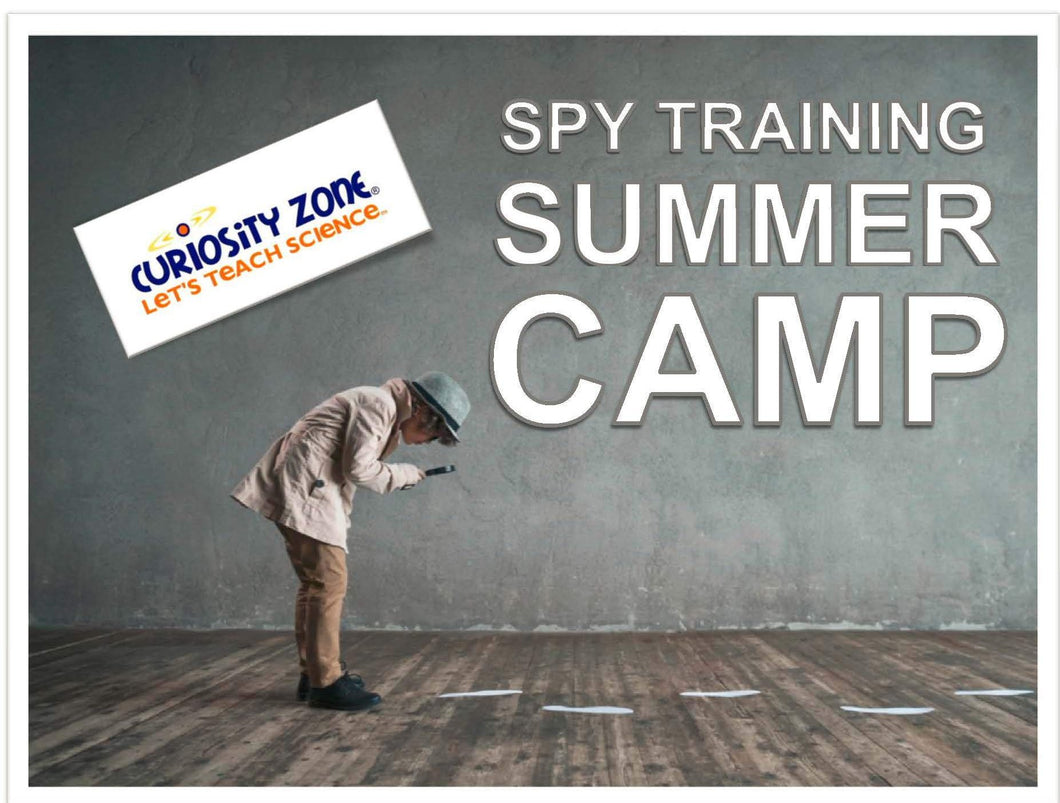 Spy Training Camp - Full Week (15 hours)
Regular price $125.00 Sale
Also sold in single day units.
Kids become cadets in a Spy Training Academy and solve daily mysteries.  Along the way, they explore disguises, secret codes, spy gadgets, disappearing ink, chromatography, fingerprint analysis, forensic chemistry, sign language, secret compartments, night vision, spy cameras and so much more!  This camp encourages learning in chemistry, physics, engineering, biology, forensics, creative thinking, problem solving and teamwork.  Look inside.
By purchasing this curriculum, you are consenting to the terms of our Licensing Agreement.
Quick Facts:
15 hours of activities; 30+ labs. 
Best for ages 4-10.
Curriculum developed over 10 years by teachers and scientists at Curiosity Zone, an award-winning kid-sized science lab.
Easy to find materials; no expensive kits.
Immediate download upon purchase.
Online training & support.
License includes up to 5 locations/100 students (whichever is less) for one year.
Use for a complete week-long camp or break into smaller units.  Combine with field trips and other camp activities to create a full-day camp experience.
Turn-key science curriculum:

Detailed instructions for teaching interconnected kid-directed STEM activities
May be customized with your own ideas to create the perfect fit
Clearly defined learning objectives
Scientific background & terminology for each activity
Advice on setup, schedule, timing & transitions
Links to recommended daily science videos
Detailed supply lists
Preparation instructions, checklists & timeline
Complete set of printables
Coordinated STEM camp games
Camp Outline:  
Day 1:  Spy Basics
Make and use hidden compartments & hiding places
Learn and use Morse code
Learn and use flashlight signals
Learn and use interrogation techniques
Make spy badges and folders
Solve the Mystery of the Day
Day 2:  Spy Chemistry
Experiment with disappearing ink
Experiment with chromatography
Make reappearing ink
Experiment with mystery powders
Make a carbon dioxide fire extinguisher
Make a popping canister diversion
Solve the mystery of the day
Day 3:  Surveillance
Write with invisible ink
Learn to use your senses like a spy
Follow a scent trail
Learn and use sign language
Use rearview spy glasses
Experiment with hidden cameras
Solve the mystery of the day
Day 4:  Crime Scene Investigation  
Gather and examine different types of evidence
Explore fingerprints
Learn to lift fingerprints from everyday objects
Explore object impressions
Make and examine tooth impressions
Solve the mystery of the day
Day 5:  Spy Gadgets
Make a Secret Code Wheel
Experiment with mirrors
Experiment with periscopes
Explore circuits
Make electronic spy gadgets
Make spy robots
Solve the mystery of the day
Download our free guide:  How to Start a STEM Summer Camp