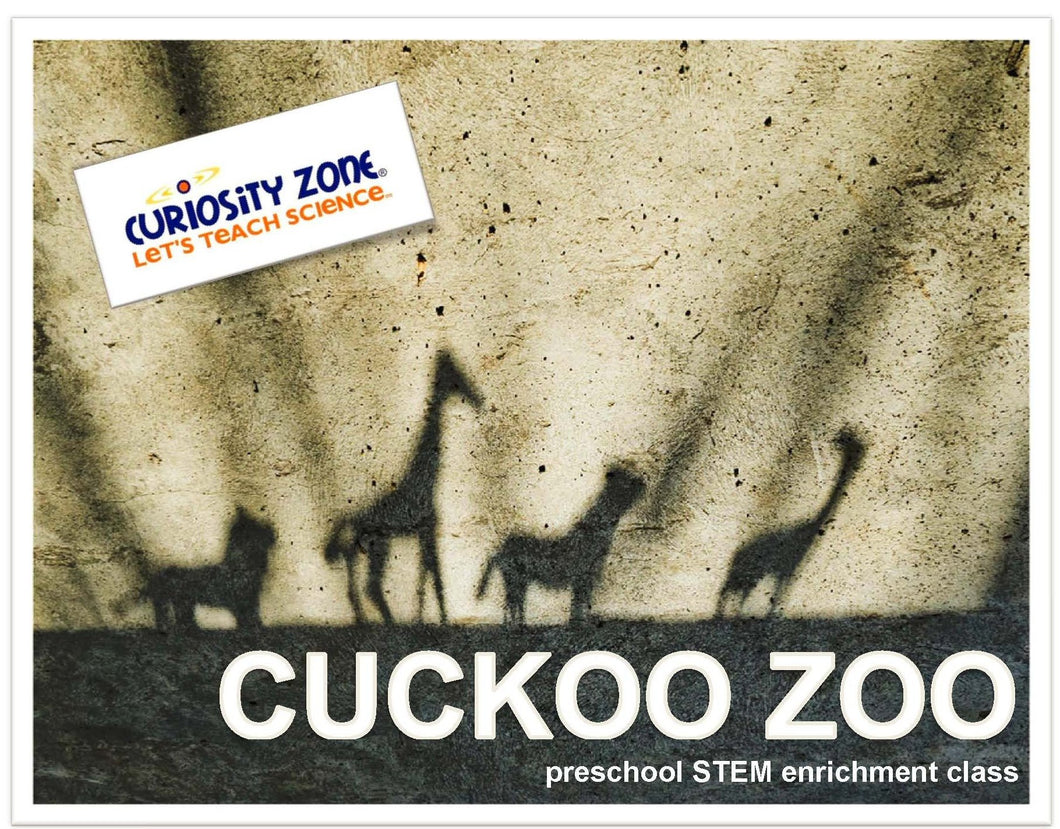 "Cuckoo Zoo" Preschool Science Curriculum (10 50-minute lessons)
Regular price $100.00 Sale
Little scientists help Captain Curiosity and Zelda the Zookeeper solve mysteries at the zoo as they explore reptiles, webs, bees, pollination, feathers, airplanes, penguins, blubber, caves, bats, echolocation, shadows, pandas, big cats, balance, veterinary medicine and more.
130+ pages of planning, scripts, science facts, handouts, visual aids, songs, poems and more.  The activities use everyday, easy-to-find materials; no expensive kits or equipment required.
By purchasing this curriculum, you are consenting to the terms of our Licensing Agreement.
Details:
This unit consists of ten different 50-minute classes. The classes build on each other, but can also be taught as individual units.  Each class features:
3 learning objectives
a Word of the Day
3 hands-on science stations (a discovery station, a manipulative station and an art station) that use everyday, easy-to-find materials.  
opening and closing activities
companion songs and poems
a suggested story book
About our preschool class curriculum:
Our proven, age-appropriate curriculum inspires little ones to create and explore independently while gaining an early foundation in STEM subjects.  The program was developed and tested by preschool and elementary school educators and scientists over ten years working with children in the Curiosity Zone kid-sized science lab.  Read our 5-star reviews online.
Each of our eight 10-week preschool units builds on the other; the entire program runs for two school years (80 weeks).
Download our free guide:  How to Start a STEM Afterschool Program