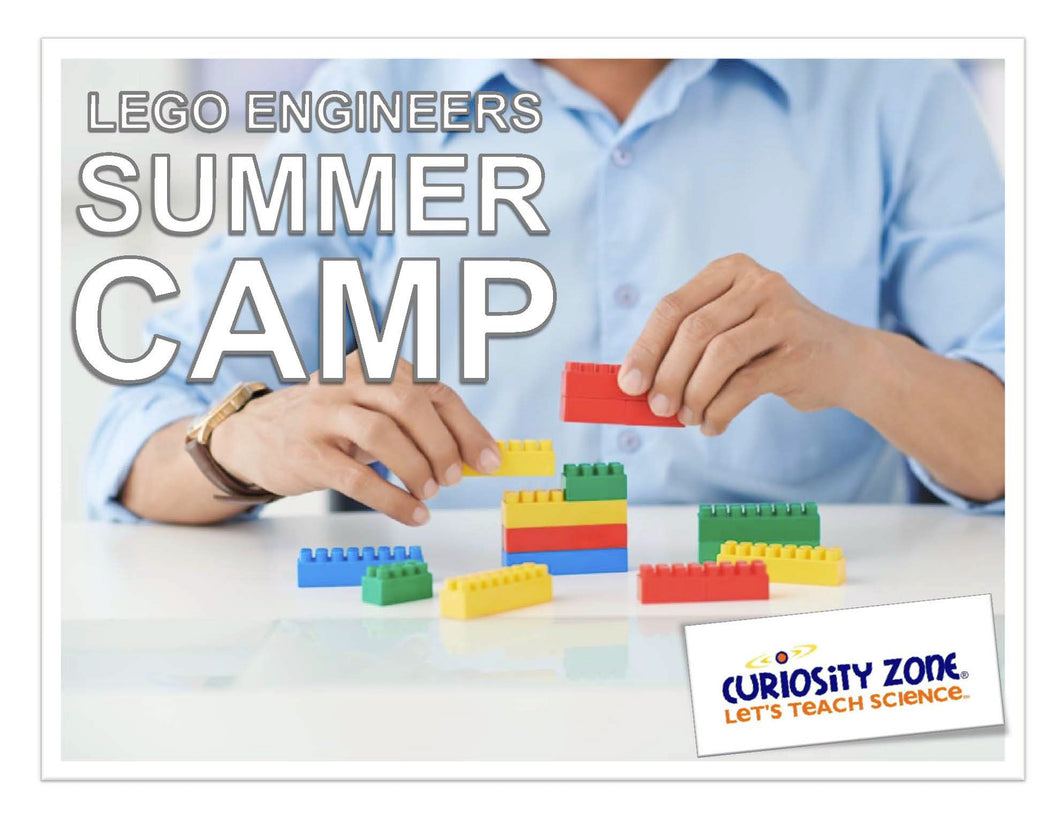 Lego® Engineers Camp - Full Week (15 hours)
Regular price $125.00 Sale
Also sold in single day units.
What's it like to be an engineer?  This awesome summer camp adventure combines hands-on STEM exploration with Lego® building to explore simple machines, boats and buoyancy, racecars, rockets, planes, helicopters, gravity, friction, energy and so much more.  Look inside.
By purchasing this curriculum, you are consenting to the terms of our Licensing Agreement.
Quick Facts:
15 hours of activities; 30+ labs. 
Best for ages 4-10.
Curriculum developed over 10 years by teachers and scientists at Curiosity Zone, an award-winning kid-sized science lab.
Easy to find materials; no expensive kits.
Immediate download upon purchase.
Online training & support.
License includes up to 5 locations/100 students (whichever is less) for one year.
Use for a complete week-long camp or break into smaller units.  Combine with field trips and other camp activities to create a full-day camp experience.
Turn-key science curriculum:

Detailed instructions for teaching interconnected kid-directed STEM activities
May be customized with your own ideas to create the perfect fit
Clearly defined learning objectives
Scientific background & terminology for each activity
Advice on setup, schedule, timing & transitions
Links to recommended daily science videos
Detailed supply lists
Preparation instructions, checklists & timeline
Complete set of printables
Coordinated STEM camp games
Camp Outline:  
Day 1:  Simple Machines
Make marble runs
Experiment with inclined planes
Make catapults
Experiment with levers
Experiment with spring scales
Use Legos® to make simple machines
Day 2:  Boats & Submarines
Explore buoyancy
Make Cartesian divers
Explore air pressure
Make balloon-powered boats
Experiment with diving submarines
Use Legos® to make boats & battleships
Day 3:  Vehicles
Experiment with balloon-powered cars
Play with race cars
Explore gravity, friction and aerodynamics
Make spool racers
Experiment with speed and kinetic energy
Use Legos® to make racecars
Day 4:  Flight
Experiment with Bernoulli's principle and how to achieve lift
Levitate balloons and ping pong balls
Make a fly paper helicopters
Make and fly loopy flyers
Experiment with paper airplane design
Use Legos® to make airships
Day 5:  Rockets &Spaceships
Make and blast off alka seltzer rockets
Experiment with types of "rocket fuel"
Experiment with rocket design
Make rocket balloon pinwheels
Use Legos® to make rockets and spaceships
Download our free guide:  How to Start a STEM Summer Camp